When:
January 30, 2024 @ 10:00 am – 11:30 am
2024-01-30T10:00:00+00:00
2024-01-30T11:30:00+00:00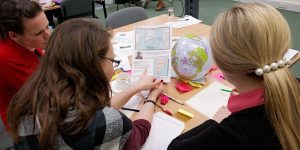 As part of Roots & Branches, the Seeds for Action Programme has been developed to connect Carbon Literate Certified museum people across England to develop and build on their carbon reduction strategies and approaches to taking climate actions.
The Seeds for Action online workshop programme is your chance to share your own experiences and ask others about the nitty gritty of implementing climate actions around various areas of work.
This workshop focuses on how can we make our museum retail offer more sustainable. This session is for you if you are interested in sharing experiences around;
Exploring alternative product ranges
Finding sustainable suppliers
Reducing single-use plastics for products and packaging.
PLEASE NOTE:
This event is for museum people who have completed a Carbon Literacy Course.
The session video will not be recorded but a transcription of the session will be recorded to support the development of follow-up materials.
By signing up to the session, you are agreeing for MDNW to share your booking information with your Museum Development Provider and Catherine Mailhac, Seeds for Action freelance coordinator. It will also be used for the evaluation of Roots & Branches project.