When:
March 13, 2024 @ 10:00 am – 12:30 pm
2024-03-13T10:00:00+00:00
2024-03-13T12:30:00+00:00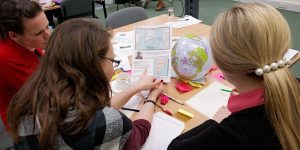 As part of Roots & Branches, the Seeds for Action Programme has been developed to connect Carbon Literate Certified museum people across England (and further afield) to develop and build on their carbon reduction strategies and approaches to taking climate actions.
Brilliant work is being done across the museum sector to reduce our carbon footprint. We round off a year of Seeds for Action Collective Workshops with a celebration event. Come along to meet and be inspired by others who are taking positive climate action, share the success stories and lessons learnt by graduates of the Carbon Literacy courses.
PLEASE NOTE:
This event is for museum people who have completed a Carbon Literacy Course.
The session video will not be recorded but a transcription of the session will be recorded to support the development of follow-up materials.
By signing up to the session, you are agreeing for MDNW to share your booking information with your Museum Development Provider and Catherine Mailhac, Seeds for Action freelance coordinator. It will also be used for the evaluation of Roots & Branches project.