When:
January 19, 2022 @ 10:00 am – 11:45 am
2022-01-19T10:00:00-01:00
2022-01-19T11:45:00-01:00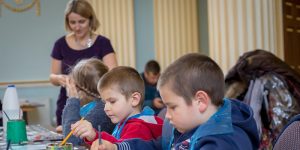 This short and informal online session is a chance for museum staff and volunteers across the East Midlands to come together to share what they have been doing with regards to school visits and outreach sessions.
Aims of the Session
A chance to informally talk to others in the region about the current situation with museum learning in schools.
Hear examples of what Creative Learning Services have been delivering to schools in the region.
An update from all about this current term.
Hear case studies from across the region (see below)
Case study focus: At this session we will hear about Project Enlightenment, funded by Arts Council England to enable the Leicestershire County Council-run 1620s House and Garden to engage with new artists and schools. The project helped these parties and the Council's learning team to explore together the opportunities for the development and delivery of new inspirational and cross-curricular learning sessions at the historic site.
The project has been run in partnership with Charnwood Arts, who support a wide range of art projects around Leicestershire and beyond.
To develop potential content for a future formal and informal learning programme, the project has involved two main artist residencies, with other artists involved in an additional programme of work for schools and family audiences.
This session will be hosted by Programme Facilitator Mary Sibson – Creative Learning Services. It will be run on the online meeting platform Zoom and details of how to join the session will be sent to delegates the day before.
Who is it for?
This event is aimed at members of the Engaging with Schools network. This is a free to access network for museum staff and volunteers from Accredited museums and those working towards Accreditation in the East Midlands. New members are welcome, and you can simply join the network by visiting our website.
By joining an MDEM training session, you are agreeing to our terms and conditions.