When:
May 18, 2022 @ 10:00 am – 11:30 am
2022-05-18T10:00:00+01:00
2022-05-18T11:30:00+01:00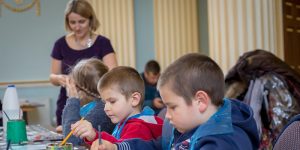 This short and informal online session is a chance for museum staff and volunteers across the East Midlands to come together to share what they have been doing with regards to school visits and outreach sessions.
Aims of the Session
A chance to informally talk to others in the region about the current situation with museum learning in schools.
Hear examples of what Creative Learning Services have been delivering to schools in the region.
An update from all about this current term.
Hear case studies from across the region
This session will be hosted by Programme Facilitator Mary Sibson – Creative Learning Services and will feature a talk around a project for co-curation and sharing cultural stories with schools, titled 'What did you put in your suitcase when you left Uganda?'
Over the past 2 years, Leicestershire County Council's Participation Team, Collections team and Creative Learning Services have been working in partnership with Loughborough University's Memories of Migration and Partition project and the Anand Mangal ladies' group in Loughborough.
Esther Shaw (LCC community participation officer) will talk about how this project evolved from the ladies' connections with objects and shared interpretations of what the objects mean to them. A shared interest in the heritage of textiles resulted in a visit to the County's Collections and a creative stitching workshop. The ladies were also supported with a fashion show at the local Mela. The ladies' precious textiles were then displayed through a co-curated process and the 'Stitching Traditions' exhibition was launched in Loughborough Charnwood Museum.
Mary Sibson ( CLS Creative Learning Officer) will then talk about how the group were supported to deliver their stories to young pupils within a primary school setting. They told the stories that they wanted to share; gathered the resources including personal photos and objects; demonstrated their creative skills and encouraged the children to participate fully in group activities, games, traditional crafts and dancing; and built a trusting and respectful relationship with the children, welcoming all types of questions.
The session will be run on the online meeting platform Zoom and details of how to join the session will be sent to delegates the day before.
Who is it for?
This event is aimed at members of the Engaging with Schools network. This is a free to access network for museum staff and volunteers from Accredited museums and those working towards Accreditation in the East Midlands. New members are welcome, and you can simply join the network by visiting our website.
By joining an MDEM training session, you are agreeing to our terms and conditions.