MDEM were thrilled to present a one day, collections and conservation focused conference: The Regional Collections Symposium 2020: Looking forward on the 5th March at the University of Lincoln.
The day included a range of regional and national speakers, case studies from across the sector and an exclusive tour of the conservation labs at the University. It provided information on current and emerging practice as well as practical advice and inspirational case studies to suit all sizes of museums.
You can view the agenda for the day here: Regional Collections Symposium 2020 Agenda
The morning hosted a series of inspirational speakers covering topics such as digital replication of collections, to collections review and apprenticeships in conservation. The afternoon had a practical focus, including dealing with pest infestations, rationalising collections and contemporary collecting and repatriation.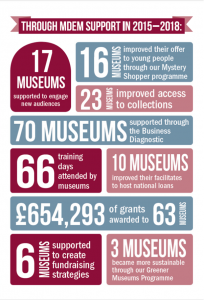 The presentations from the day can be found below:
Anita Hollinshead, Regional Collections Adviser for MDEM –  Welcome and review of the-regional collections programme
Dr Lynda Skipper, Senior Lecturer, Conservation Department, University of Lincoln Conservation-of-Cultural-Heritage-at-the-University-of-Lincoln
Paul Croft, Research Fellow, Lincoln Conservation The-role-of-digital-replication-in-the-reinstatement-of-an-early-20th-century-ceiling
Phil Hackett, Resources Manager, Leicester Arts, Museums, Festivals & Events Festivals-Events-A-Collections-Review-Il-buono-Il-brutto-Il-cattivo
Anna Rhodes, Project Officer, Buxton Museum and Art Gallery Proactive Disposals – Proactive Disposals: Re-homing-the-Derbyshire-Schools-Library-Service-collections
Jane Thompson Webb, Conservation Team Leader, Birmingham Museums Trust Have you got this on? Exploring-recent-insect-pest-activity-in-museums
Gillian Smithson, Gallery & Museum Registrar, The Whitworth and Manchester Museum, The University of Manchester – Give -Take Unconditional Return of Secret and Sacred objects
Dynamic collections and place making' Dr Janet Owen, Executive Director Earth Museum, Eleanor Baumber, Public Engagement Manager, Lincolnshire County Council, Carolyn Melbourne; Museum and Collections Officer, D.H. Lawrence Birthplace Museum Earth Museum and Objects Slide Show
The Regional Collections Symposium is run by MDEM every 2-3 years in the East Midlands. Sign up to our newsletter for information on our current events.