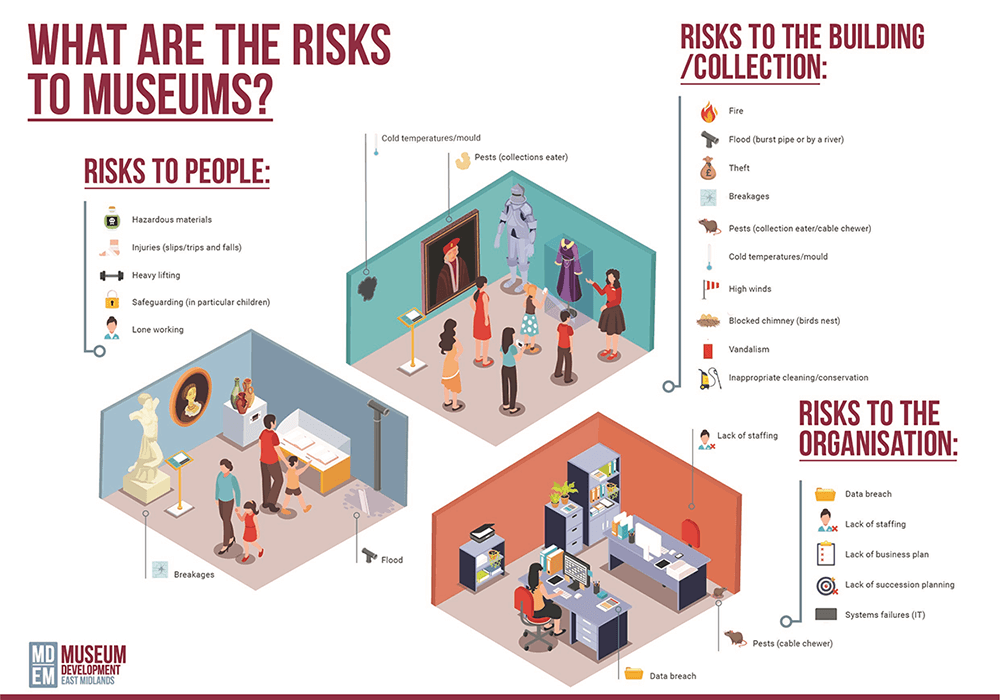 Here we have put together a range of resources to support museums and heritage organisations with emergency preparedness and risk management.
You can also download our 'What are the Risks to Museums?' visual and Emergency and Risk Network Information sheet here: MDEM Museums Risk Leaflet
ERN Risk Assessment Template when undertaking museum site assessment: Template-Risk-Assessment-of-Threats-for-Museums
Emergency Plan Template – Updated to include pandemics
The ERN network has worked to create a revised Emergency Plan template for museums to ensure it is able to respond to pandemics and in particular the issues raised through the Covid 19 pandemic.
You can download the template and supporting document below:
APPENDIX 1 – Forms to copy and use
APPENDIX 2 – Building Maintenance Checklist
Collections Trust
DCMS, Business Continuity Planning Tool
Hazards in Collections E-Tool Use this tool to search through common hazards found in collections, such as asbestos or controlled drugs, and view current legislation and advice.
Historic England: 'Writing an Emergency Response Plan'
Museum of London Emergency planning e-tool
Museum of London- Pocket Salvage Guide
Risk Awareness Profiling Tool (RAPT)
Share Museums East – Be prepared: Emergency planning toolkit for Museums'
'What's Eating Your Collection'
If you would like to suggest a resource to add to the list or have a question, please contact the Emergency and Risk Network lead Anita Hollinshead.