When:
January 17, 2024 @ 10:00 am – 11:30 am
2024-01-17T10:00:00+00:00
2024-01-17T11:30:00+00:00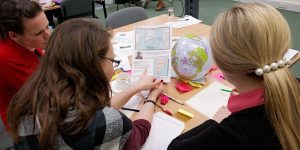 Carbon Literacy Connect and Catch-up session
As part of our commitment to supporting the Carbon Literacy community of museum people, Museum Development are scheduling regular Connect and Catch-up sessions. These form part of the Roots & Branches: Seeds for Action Programme to support you to continue to work with peers to explore and take climate action.
We'd like to invite you to come along to an informal online session via Zoom on 17 January 2024, 10.00-11.30 to enable you to catch-up and connect with your fellow Carbon Literate colleagues across England (and further afield!).
The sessions will be facilitated by Catherine Mailhac, a Carbon Literate Freelancer, who is working with us to develop and deliver the Seeds for Action Programme.
The session
Part 1
A chance for anyone who wants to, to share:
Your individual and group actions
Any progress you've made on the actions
Any challenges you've faced or areas where you are looking for support
Any interesting and inspiring examples of relevant work you've seen happening in the sector and beyond
Part 2
We know that finding time to do this work is one of the biggest barriers for many people. It can easily drop down the to-do-list and doesn't feel like a day-to-day priority. We want to help you to carve out some protected time to do this work.
For the second part of the sessions, you are invited to stay for some dedicated co-focus time. We will all use this time to individually work on our Carbon Literacy actions or related activities. We will mute the audio, and you can choose to have your camera on or not. Towards the end of the sessions, we will have a quick check-in, so you can share any progress or issues if you want to.
Practicalities
This will be a really informal session, and it won't be recorded. You are welcome to stay for as long as you like. There is no pressure to share – if you just want to come along and be inspired by others, that's fine. Please don't worry if you haven't completed or made much progress on your actions so far – this is not a test, and maybe this session can help get the ball rolling!
Joining Instructions: You will receive joining instructions in advance of the session via email.
Please Note: The information gathered through the booking form will be used by Museum Development North West and Seeds for Action Programme freelancer to send you joining instructions as well for programme evaluation. It will also be shared with your local Museum Development Provider.